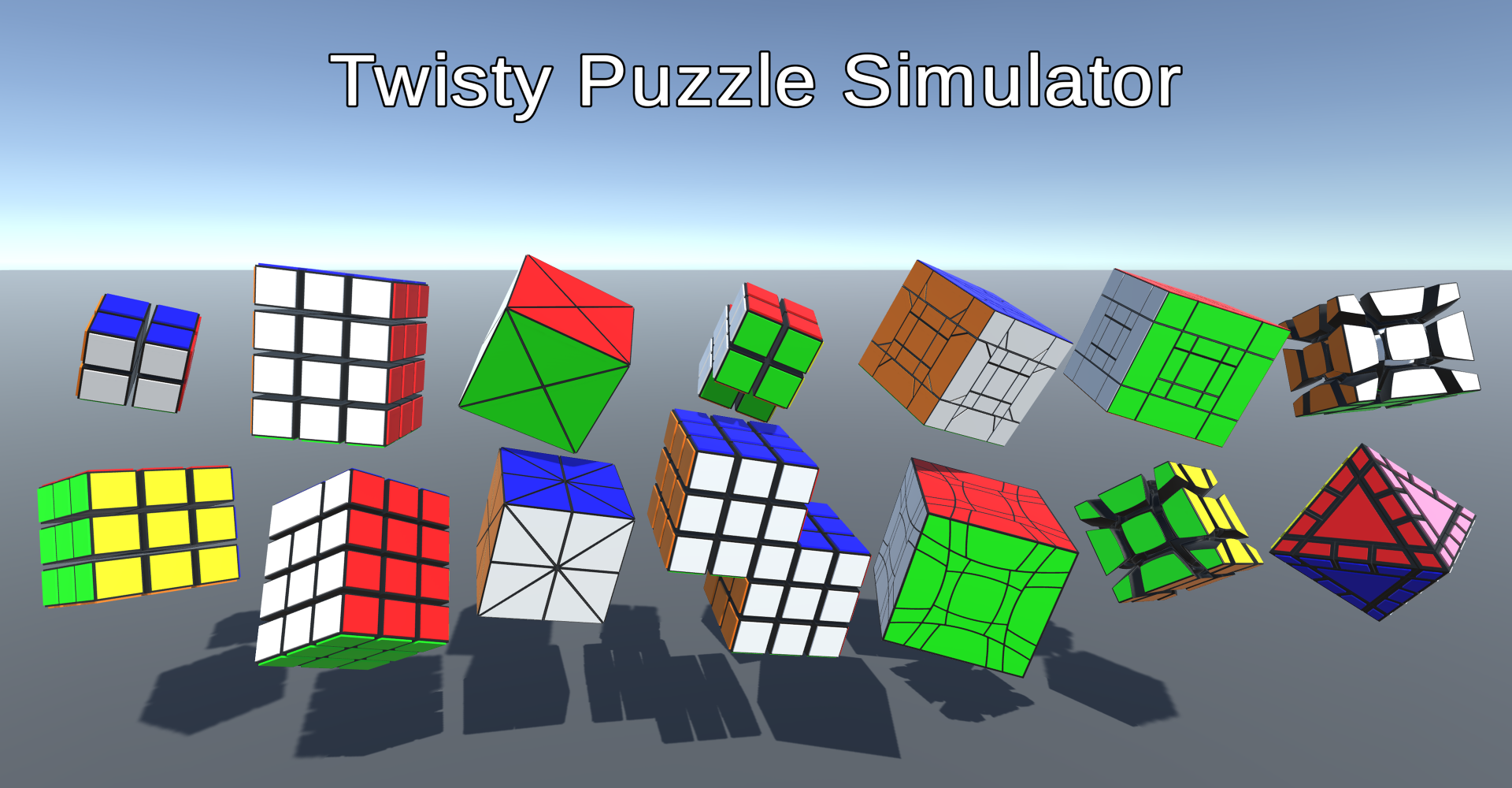 Hello!
I'm Mike Armbrust and I developed Twisty Puzzle Simulator. This post will be community driven and evolve as the game evolves. For now, feel free to post anything related to Twisty Puzzle Simulator. I'll update the OP as needed.
The "Easy Update" - Released
New difficulty options for all puzzles.
The "Adventure Update" - Released
An all new campaign and new puzzles.
The "Global Update"
Once Twisty Puzzle Simulator is available worldwide, network features will be added to the game. This update will add leaderboards, global statistics, and other cool ways to compare and share your puzzle solving experiences. This update will also add advanced local statistics allowing you to view graphs of your solve history. Twisty Puzzle Simulator already keeps track of this information for you so the graphs will be able to extend all the way back to the first time you started playing.
Lastly because this is Twisty Puzzle Simulator after all, the update will add additional secret puzzles.
Steam Leaderboards
1x2x2

Fastest Solve 1


| | | | |
| --- | --- | --- | --- |
| Rank | Name | Solve Time | Move Count |
| 1 | Sh000ter | 0.04 | 1 |
| 2 | isak qing | 0.042 | 1 |
| 3 | teho_10 | 0.043 | 1 |
| 4 | Doctor Tangible | 0.044 | 1 |
| 5 | MaikeruKonare | 0.049 | 1 |
| 6 | g00gl3 | 0.049 | 1 |
| 7 | MaikeruKonare | 0.049 | 1 |
| 8 | MaikeruKonare | 0.05 | 1 |
| 9 | g00gl3 | 0.05 | 1 |
| 10 | teho_10 | 0.055 | 1 |


Fewest Moves 1


| | | | |
| --- | --- | --- | --- |
| Rank | Name | Solve Time | Move Count |
| 1 | Sh000ter | 0.04 | 1 |
| 2 | isak qing | 0.042 | 1 |
| 3 | teho_10 | 0.043 | 1 |
| 4 | Doctor Tangible | 0.044 | 1 |
| 5 | MaikeruKonare | 0.049 | 1 |
| 6 | g00gl3 | 0.049 | 1 |
| 7 | MaikeruKonare | 0.049 | 1 |
| 8 | MaikeruKonare | 0.05 | 1 |
| 9 | g00gl3 | 0.05 | 1 |
| 10 | teho_10 | 0.055 | 1 |


Fastest Solve 2


| | | | |
| --- | --- | --- | --- |
| Rank | Name | Solve Time | Move Count |
| 1 | Sh000ter | 0.04 | 1 |
| 2 | isak qing | 0.041 | 1 |
| 3 | teho_10 | 0.045 | 1 |
| 4 | MaikeruKonare | 0.05 | 1 |
| 5 | MaikeruKonare | 0.05 | 1 |
| 6 | MaikeruKonare | 0.05 | 1 |
| 7 | g00gl3 | 0.05 | 1 |
| 8 | g00gl3 | 0.05 | 1 |
| 9 | randomguest | 0.211 | 1 |
| 10 | randomguest | 0.218 | 1 |


Fewest Moves 2


| | | | |
| --- | --- | --- | --- |
| Rank | Name | Solve Time | Move Count |
| 1 | Sh000ter | 0.04 | 1 |
| 2 | isak qing | 0.041 | 1 |
| 3 | teho_10 | 0.045 | 1 |
| 4 | MaikeruKonare | 0.05 | 1 |
| 5 | MaikeruKonare | 0.05 | 1 |
| 6 | MaikeruKonare | 0.05 | 1 |
| 7 | g00gl3 | 0.05 | 1 |
| 8 | g00gl3 | 0.05 | 1 |
| 9 | randomguest | 0.211 | 1 |
| 10 | randomguest | 0.218 | 1 |


Fastest Solve 3


| | | | |
| --- | --- | --- | --- |
| Rank | Name | Solve Time | Move Count |
| 1 | Sh000ter | 0.138 | 2 |
| 2 | MaikeruKonare | 0.183 | 2 |
| 3 | MaikeruKonare | 0.2 | 2 |
| 4 | Sh000ter | 0.201 | 2 |
| 5 | MaikeruKonare | 0.233 | 2 |
| 6 | MaikeruKonare | 0.316 | 2 |
| 7 | Smitty Werbenjagermanjensen | 0.384 | 0 |
| 8 | Smitty Werbenjagermanjensen | 0.384 | 0 |
| 9 | g00gl3 | 0.416 | 2 |
| 10 | g00gl3 | 0.432 | 2 |


Fewest Moves 3


| | | | |
| --- | --- | --- | --- |
| Rank | Name | Solve Time | Move Count |
| 1 | Smitty Werbenjagermanjensen | 0.384 | 0 |
| 2 | Smitty Werbenjagermanjensen | 0.384 | 0 |
| 3 | Sh000ter | 0.138 | 2 |
| 4 | MaikeruKonare | 0.183 | 2 |
| 5 | MaikeruKonare | 0.2 | 2 |
| 6 | Sh000ter | 0.201 | 2 |
| 7 | MaikeruKonare | 0.233 | 2 |
| 8 | MaikeruKonare | 0.316 | 2 |
| 9 | g00gl3 | 0.416 | 2 |
| 10 | g00gl3 | 0.432 | 2 |
Slice Cube

Fastest Solve 1


| | | | |
| --- | --- | --- | --- |
| Rank | Name | Solve Time | Move Count |
| 1 | MaikeruKonare | 0.033 | 1 |
| 2 | g00gl3 | 0.034 | 1 |
| 3 | MaikeruKonare | 0.15 | 1 |
| 4 | MaikeruKonare | 0.2 | 2 |
| 5 | Kamal | 0.2 | 1 |
| 6 | bestmove68gin | 0.217 | 1 |
| 7 | MaikeruKonare | 0.55 | 2 |
| 8 | gabenewellsimp | 0.739 | 1 |
| 9 | Delrubikeo | 0.993 | 1 |
| 10 | VizionEck | 1.243 | 2 |


Fewest Moves 1


| | | | |
| --- | --- | --- | --- |
| Rank | Name | Solve Time | Move Count |
| 1 | MaikeruKonare | 0.033 | 1 |
| 2 | g00gl3 | 0.034 | 1 |
| 3 | MaikeruKonare | 0.15 | 1 |
| 4 | Kamal | 0.2 | 1 |
| 5 | bestmove68gin | 0.217 | 1 |
| 6 | gabenewellsimp | 0.739 | 1 |
| 7 | Delrubikeo | 0.993 | 1 |
| 8 | g00gl3 | 1.485 | 1 |
| 9 | MaikeruKonare | 0.2 | 2 |
| 10 | MaikeruKonare | 0.55 | 2 |


Fastest Solve 2


| | | | |
| --- | --- | --- | --- |
| Rank | Name | Solve Time | Move Count |
| 1 | MaikeruKonare | 0.033 | 1 |
| 2 | Szeth-son-son-Vallano | 0.2 | 1 |
| 3 | Hoshi | 0.216 | 1 |
| 4 | Xevross | 0.217 | 1 |
| 5 | Sh000ter | 0.424 | 1 |
| 6 | g00gl3 | 0.717 | 2 |
| 7 | Smitty Werbenjagermanjensen | 0.917 | 1 |
| 8 | randomguest | 1.982 | 2 |
| 9 | Bjtiger360 | 2.033 | 2 |
| 10 | Sh000ter | 2.052 | 2 |


Fewest Moves 2


| | | | |
| --- | --- | --- | --- |
| Rank | Name | Solve Time | Move Count |
| 1 | MaikeruKonare | 0.033 | 1 |
| 2 | Szeth-son-son-Vallano | 0.2 | 1 |
| 3 | Hoshi | 0.216 | 1 |
| 4 | Xevross | 0.217 | 1 |
| 5 | Sh000ter | 0.424 | 1 |
| 6 | Smitty Werbenjagermanjensen | 0.917 | 1 |
| 7 | g00gl3 | 0.717 | 2 |
| 8 | randomguest | 1.982 | 2 |
| 9 | Bjtiger360 | 2.033 | 2 |
| 10 | Sh000ter | 2.052 | 2 |


Fastest Solve 3


| | | | |
| --- | --- | --- | --- |
| Rank | Name | Solve Time | Move Count |
| 1 | MaikeruKonare | 0.033 | 1 |
| 2 | rachstarburst | 0.231 | 1 |
| 3 | g00gl3 | 0.417 | 2 |
| 4 | g00gl3 | 0.433 | 2 |
| 5 | g00gl3 | 0.501 | 2 |
| 6 | ShadowPelt50 | 0.548 | 1 |
| 7 | randomguest | 1.154 | 2 |
| 8 | MaikeruKonare | 1.28 | 1 |
| 9 | snowblower5 | 2.277 | 2 |
| 10 | Hidden | 2.591 | 2 |


Fewest Moves 3


| | | | |
| --- | --- | --- | --- |
| Rank | Name | Solve Time | Move Count |
| 1 | MaikeruKonare | 0.033 | 1 |
| 2 | rachstarburst | 0.231 | 1 |
| 3 | ShadowPelt50 | 0.548 | 1 |
| 4 | MaikeruKonare | 1.28 | 1 |
| 5 | g00gl3 | 0.417 | 2 |
| 6 | g00gl3 | 0.433 | 2 |
| 7 | g00gl3 | 0.501 | 2 |
| 8 | randomguest | 1.154 | 2 |
| 9 | snowblower5 | 2.277 | 2 |
| 10 | Hidden | 2.591 | 2 |
Plus Cube

Fastest Solve 1


| | | | |
| --- | --- | --- | --- |
| Rank | Name | Solve Time | Move Count |
| 1 | MaikeruKonare | 0.5 | 2 |
| 2 | Kassydi | 0.876 | 1 |
| 3 | randomguest | 1.395 | 2 |
| 4 | g00gl3 | 3.085 | 5 |
| 5 | MaikeruKonare | 3.983 | 5 |
| 6 | MaikeruKonare | 4.1 | 5 |
| 7 | MaikeruKonare | 5.062 | 4 |
| 8 | jubylado | 5.262 | 2 |
| 9 | Delrubikeo | 5.486 | 5 |
| 10 | MaikeruKonare | 5.783 | 6 |


Fewest Moves 1


| | | | |
| --- | --- | --- | --- |
| Rank | Name | Solve Time | Move Count |
| 1 | Kassydi | 0.876 | 1 |
| 2 | MaikeruKonare | 0.5 | 2 |
| 3 | randomguest | 1.395 | 2 |
| 4 | jubylado | 5.262 | 2 |
| 5 | MaikeruKonare | 5.062 | 4 |
| 6 | aleyur | 6.399 | 4 |
| 7 | in new york i milly rock | 6.451 | 4 |
| 8 | fbgrac | 10.51 | 4 |
| 9 | Axodies | 14.612 | 4 |
| 10 | gabenewellsimp | 15.851 | 4 |


Fastest Solve 2


| | | | |
| --- | --- | --- | --- |
| Rank | Name | Solve Time | Move Count |
| 1 | MaikeruKonare | 13.383 | 11 |
| 2 | MaikeruKonare | 13.533 | 12 |
| 3 | g00gl3 | 14.818 | 9 |
| 4 | MaikeruKonare | 16.383 | 12 |
| 5 | MaikeruKonare | 16.689 | 12 |
| 6 | randomguest | 16.742 | 13 |
| 7 | MaikeruKonare | 16.866 | 15 |
| 8 | VizionEck | 17.267 | 14 |
| 9 | MaikeruKonare | 18.517 | 18 |
| 10 | MaikeruKonare | 18.616 | 13 |


Fewest Moves 2


| | | | |
| --- | --- | --- | --- |
| Rank | Name | Solve Time | Move Count |
| 1 | g00gl3 | 14.818 | 9 |
| 2 | MaikeruKonare | 19.326 | 10 |
| 3 | Sh000ter | 29.163 | 10 |
| 4 | MaikeruKonare | 13.383 | 11 |
| 5 | MaikeruKonare | 26.224 | 11 |
| 6 | aleyur | 32.881 | 11 |
| 7 | MaikeruKonare | 13.533 | 12 |
| 8 | MaikeruKonare | 16.383 | 12 |
| 9 | MaikeruKonare | 16.689 | 12 |
| 10 | randomguest | 16.742 | 13 |


Fastest Solve 3


| | | | |
| --- | --- | --- | --- |
| Rank | Name | Solve Time | Move Count |
| 1 | randomguest | 37.219 | 30 |
| 2 | randomguest | 47.62 | 29 |
| 3 | Hidden | 47.698 | 28 |
| 4 | MaikeruKonare | 48.311 | 43 |
| 5 | VizionEck | 54.333 | 38 |
| 6 | randomguest | 65.123 | 31 |
| 7 | Delrubikeo | 70.033 | 47 |
| 8 | in new york i milly rock | 70.685 | 37 |
| 9 | MaikeruKonare | 73.186 | 51 |
| 10 | MaikeruKonare | 80.2 | 48 |


Fewest Moves 3


| | | | |
| --- | --- | --- | --- |
| Rank | Name | Solve Time | Move Count |
| 1 | Hidden | 47.698 | 28 |
| 2 | randomguest | 47.62 | 29 |
| 3 | teho_10 | 122.109 | 29 |
| 4 | randomguest | 37.219 | 30 |
| 5 | randomguest | 65.123 | 31 |
| 6 | in new york i milly rock | 70.685 | 37 |
| 7 | VizionEck | 54.333 | 38 |
| 8 | kris1708.cs | 185.927 | 40 |
| 9 | meggachilly | 139.433 | 41 |
| 10 | Fridericus Rex | 111.562 | 42 |
Helicopter Third

Fastest Solve 1


| | | | |
| --- | --- | --- | --- |
| Rank | Name | Solve Time | Move Count |
| 1 | MaikeruKonare | 0.05 | 1 |
| 2 | Sh000ter | 0.169 | 2 |
| 3 | MaikeruKonare | 0.3 | 1 |
| 4 | g00gl3 | 0.35 | 2 |
| 5 | Bjtiger360 | 0.4 | 1 |
| 6 | jubylado | 0.402 | 1 |
| 7 | snowblower5 | 0.408 | 1 |
| 8 | VizionEck | 0.415 | 1 |
| 9 | Fridericus Rex | 0.416 | 1 |
| 10 | Axodies | 0.417 | 1 |


Fewest Moves 1


| | | | |
| --- | --- | --- | --- |
| Rank | Name | Solve Time | Move Count |
| 1 | MaikeruKonare | 0.05 | 1 |
| 2 | MaikeruKonare | 0.3 | 1 |
| 3 | Bjtiger360 | 0.4 | 1 |
| 4 | jubylado | 0.402 | 1 |
| 5 | snowblower5 | 0.408 | 1 |
| 6 | VizionEck | 0.415 | 1 |
| 7 | Fridericus Rex | 0.416 | 1 |
| 8 | Axodies | 0.417 | 1 |
| 9 | Cuby | 0.841 | 1 |
| 10 | Delrubikeo | 1.042 | 1 |


Fastest Solve 2


| | | | |
| --- | --- | --- | --- |
| Rank | Name | Solve Time | Move Count |
| 1 | MaikeruKonare | 0.05 | 1 |
| 2 | Sh000ter | 0.168 | 2 |
| 3 | MaikeruKonare | 0.183 | 2 |
| 4 | MaikeruKonare | 0.331 | 1 |
| 5 | g00gl3 | 0.366 | 2 |
| 6 | Pelotudo78 | 0.401 | 1 |
| 7 | kris1708.cs | 0.409 | 1 |
| 8 | Delrubikeo | 0.93 | 2 |
| 9 | gabenewellsimp | 0.938 | 1 |
| 10 | Smitty Werbenjagermanjensen | 0.984 | 1 |


Fewest Moves 2


| | | | |
| --- | --- | --- | --- |
| Rank | Name | Solve Time | Move Count |
| 1 | MaikeruKonare | 0.05 | 1 |
| 2 | MaikeruKonare | 0.331 | 1 |
| 3 | Pelotudo78 | 0.401 | 1 |
| 4 | kris1708.cs | 0.409 | 1 |
| 5 | gabenewellsimp | 0.938 | 1 |
| 6 | Smitty Werbenjagermanjensen | 0.984 | 1 |
| 7 | Sh000ter | 0.168 | 2 |
| 8 | MaikeruKonare | 0.183 | 2 |
| 9 | g00gl3 | 0.366 | 2 |
| 10 | Delrubikeo | 0.93 | 2 |


Fastest Solve 3


| | | | |
| --- | --- | --- | --- |
| Rank | Name | Solve Time | Move Count |
| 1 | MaikeruKonare | 2.122 | 3 |
| 2 | MaikeruKonare | 2.45 | 3 |
| 3 | VizionEck | 2.734 | 4 |
| 4 | isak qing | 3.813 | 5 |
| 5 | MaikeruKonare | 3.834 | 4 |
| 6 | MaikeruKonare | 5.513 | 6 |
| 7 | MaikeruKonare | 5.931 | 5 |
| 8 | VizionEck | 6.527 | 5 |
| 9 | MaikeruKonare | 7.466 | 10 |
| 10 | Szeth-son-son-Vallano | 7.65 | 5 |


Fewest Moves 3


| | | | |
| --- | --- | --- | --- |
| Rank | Name | Solve Time | Move Count |
| 1 | MaikeruKonare | 2.122 | 3 |
| 2 | MaikeruKonare | 2.45 | 3 |
| 3 | VizionEck | 2.734 | 4 |
| 4 | MaikeruKonare | 3.834 | 4 |
| 5 | isak qing | 3.813 | 5 |
| 6 | MaikeruKonare | 5.931 | 5 |
| 7 | VizionEck | 6.527 | 5 |
| 8 | Szeth-son-son-Vallano | 7.65 | 5 |
| 9 | randomguest | 12.563 | 5 |
| 10 | MaikeruKonare | 5.513 | 6 |
Fastest to 5 Stars
| | | | |
| --- | --- | --- | --- |
| Rank | Name | Time | Coin Count |
| 1 | g00gl3 | 44.814 | 40 |
| 2 | meggachilly | 46.031 | 30 |
| 3 | Sh000ter | 46.407 | 30 |
| 4 | Bjtiger360 | 50.729 | 24 |
| 5 | randomguest | 56.728 | 40 |
| 6 | Sh000ter | 57.915 | 32 |
| 7 | randomguest | 58.019 | 36 |
| 8 | Delrubikeo | 58.94 | 40 |
| 9 | isak qing | 60.202 | 34 |
| 10 | in new york i milly rock | 60.806 | 30 |