let's just start off getting the obvious out of the way..
VR looks dorky:
plain and simple,.. VR looks dorky and creates with it a negative stigma. as gamers we are all well aware of that negative stigma and we fight tooth and nail to combat it often. even still no one can deny that no one looks at this guy and says "i wish that was me". ..but things run far deeper than that.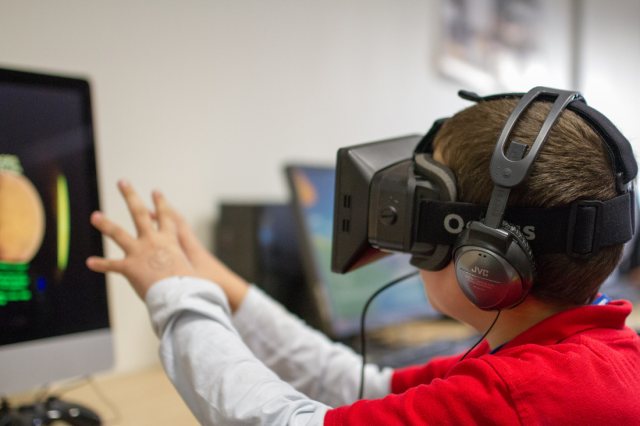 Technology should be social not anti-social:
i have a wife and a kid and friends and i can't share VR experiences with them. VR is a "take turns" or "one person at a time" technology. that right there
significantly
decreases its value. humans are inherently social creatures that like to share experiences and VR goes directly against that. no one likes to wait for their turn in order to play. even worse the alternative to waiting turns is...
VR is too expensive:
in the current technology push it requires a ps4 or pc in addition to the VR headset. from my reading it would seem most sites are expecting a $200 to $300 for the glasses in addition to the ps4/PC which will set you back another ~$400 (currently) for a total of at least $600. to make matters worse that is just for one person and a second headset isn't enough to have 2 people play at once,.. you also need a second ps4/pc making the tech ~$600 per person. that is hella (prohibitively) expensive for your typical family of 4.
...but the experience.
is what i always hear people say. full surround sound. full surround vision in 3D with motion tracking. an experience immersive like no other.
but the experience... won't happen.
let's start of here. major publishers won't support VR.
http://www.develop-online.net/news/ubisoft-won-t-support-vr-tech-until-sales-exceed-1m/0190722
games are expensive to develop already and cost are often times not recouped. each new feature developed adds to the cost and we already have major publishers claiming they won't support the technology. that by the way, is just to support VR as a port for games developed first and foremost for 2D screens.
but the experience... need native development.
we've seen this over and over already. retrofitting motion controls into a game not developed specifically for motion controls sucks. it sucks a lot. it doesn't add to the experience and more often then not deters and diminishes the experience. in order for VR to actually be good it needs games that are developed to be VR exclusive. you might get a handful of indie developers will to do that but major publishers will not. they are reluctant to do even give the technology a "port" so there is no way in hell they'll invest in a AAA exclusive. without exclusive, compelling content VR is as dead as vita.
but the experience... sucks for (most) games anyways.
think back to all those reasons why you guys have bashed kinect over the years. VR has many of the same flaws. now there are a few genres where VR would be nice. the one that really comes to mind is games like GT or forza. the basic gist is in those games you are pretending to be
sitting in a chair
and looking left/right a bit. that would fit the controls for VR quite nicely.
but shooters, action adventure games, sports games,.. any game where you expect to
move
the controls will feel awkward. you can look left right but what are your options for moving forward or turning around? either:
A) buy this setup which adds to the costs of VR, increases the dork factor, and (like with motion controls) with be physically exhausting very quickly which is a complaint all of you had about motion controls for all these years.
B) or.. you map movement to a button. this significantly removes a level of immersion that VR is suppose to create. VR is reduced to a "peak" functionality. worse yet having your view of the world being partially mapped to your head movement but mostly mapped to your button presses will cause dizziness and sea-sickness with most users.
and then there are all those other genres,.. puzzle games, platformers, rhythm games, basically any genre not specifically in the first person perspective. VR is completely, utterly pointless in those genres.
but the experience... adds (almost) nothing to movies.
it just needs to be said,.. you'll get the wide vision of an IMAX i suppose but movies aren't suppose to be interactive. the director sets up their shots specifically to show the movie-goer what they want to show. the technology would add a lot to the costs of movies and they will resist it. without movies VR is just a subset of games which is already a much smaller market (at least wrt to users) than movies. that is a big hamstring on mass market support for VR.
the technology:
..directly conflicts with gaming today. legend had a nice thread critiquing AR and games that i can't seem to find. VR has different but similar issues. the main issue, imo, is framerate. VR needs a very smooth framerate to not be a horrible experience. from what i read we're talking about a 90 fps minimum. and yet games today don't typically run even at 60 fps. it's not like developers wouldn't like to have higher framerate but there are limits of development and most developers are
choosing
to only support 30 fps. all of the physics, all of the AI, all of the rendering needs to happen within that timeframe and the faster the framereate the less you can do. by locking in at 30 fps the developer has much more freedom to create more beautiful, detailed worlds but also add gameplay elements like advanced physics, advanced AI, increased count of NPCs on the screen, ect. when locked in at a 90 fps minimum,.. the games that can be created will suck. ...and by suck i mean feel like a giant step back in technology that the "immersion" of VR won't be able to be cool enough to be "worth it".
..at least not for long.
VR is probably a flop. maybe with enough marketing it could be elevated all the way up to fad. ..but this isn't the future of interactive entertainment. it will be neat for a while but not compelling enough for either publisher or consumer to "take the risk" to invest in the technology. it's expensive, it only works for a few genres, and even those genres contain gameplay flaws. this puts it into a chicken or the egg scenario where neither side will want to invest first. eventually VR be labeled a failure just like it was in the early 90s and with the virtual boy. things are better this time like with 3D and something i hope to experience once or twice,.. but they aren't compelling enough to make me want to buy one and deal with all the hassles and disappointments that come along with it.