The quickest way to get a response is to make a public comment on our forum. You can also reach VizionEck on Twitter. For press inquiries or private matters, please email contact@vizioneck.com.
VizionEck LLC is an independent video game developer, founded on August 21, 2013 by Mike Armbrust.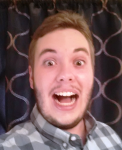 @MikeArmbrust
The studio has yet to publish any games, although that's expected to change in 2018. VizionEck Cube Royale and VizionEck Adventure have both been in active development since the beginning, with the studio starting pre production on new projects soon. All current titles are PS4 exclusive and we look forward to supporting other platforms in the future.